This training is specially designed for Retail Management to Upgrade their Skills and knowledge.
Duration:3Months(90 hours)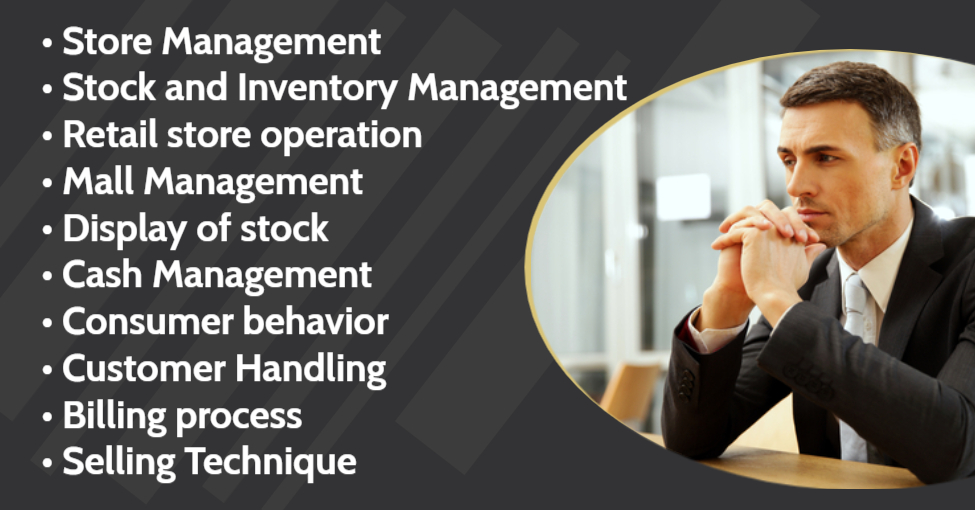 Retail Management
Retail Management is a process of promoting greater sales and customer satisfaction by gaining a better understanding of the consumer of goods & services produced by a company.
Course Objective :
Retail Management programs teaches you foundational principle of business , management , accounting , marketing , and human relations .The certificate of completion provides you with the knowledge of retail sales and services .
Course Content :
Store Management
Stock and Inventory Management
Retail store operation
Mall Management
Display of stock
Cash Management
Consumer behavior
Customer Handling
Billing process
Selling Technique
Learning: After course completion, you should be able to :
Define Retailing
Understand the ways that retailer use marketing tools & techniques to interact with their customer.
Retail Product range.
How technology in retailing affects all members & customers.
Layout, design , pricing , and promotions etc.
Faculty:
Getting Started with Microsoft Excel
Data Entering
Creating Formulas and Functions
Formatting
Worksheet Views, Multiple Worksheets and Workbooks
IF, VLOOKUP, and Power Functions, Security & Sharing
PivotTables
MICROSOFT OUTLOOK
We have well trained faculty from best organization to teach new skills.
Career: After completion of this course , students gets job in different designation
Retail Associate
Ware house Manager
Customer Care
Departmental Manager
Cashier
Promoters
Stock Associate
Product executive
This course teaches necessary skills to advance the career in this field with this course certificate one may find work options in:
Aviation sector
Tourism Sector
Automobile sector
Shopping mall
Gems & Jewellery sector
Textile Industry
FMCG
Eligibility:
Candidate who have passed 10th standard are eligible and age limit should be 18-35 years.
Certificate:
Students meeting requisite attendance requirement and clearing a successful Training & exam will be rewarded with "Certificate"
Method of Instructions/Teaching:
Retail course will be studied through regular lectures, videos, case studies, practical labs, workshops & guest lectures, group and class discussion, computer applications & industry related objects & projects.
09119603191 , 09235442124
All rights reserved © SAC Management India Private Limited & SAC Management Services #2011-2020