Since 2003, SAC Management India Private Limited is offering
Professional Resume Writing Services
Fees- Rs.2500/-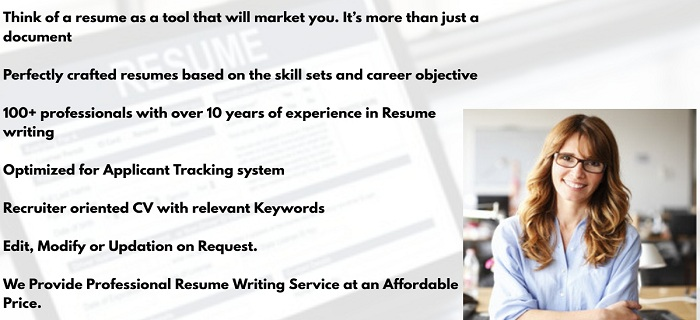 Professional Resume Writing Services
We have a Team of over 100+ dedicated Professional Writers who work seamlessly in writing the quality Career Resume for you at an Affordable Price.
We handpicked the Industry Experienced Professional writers to write Resume for you, based on the Criteria that match with your Skills, Goals and Industry.
Our Writers create Resumes in Collaboration with Candidate or Jobseeker. We will provide you a Brief Questionnaire that you need to fill with Details which usually takes few minutes only, the Information we collect though Questionnaire will be used to create the Resume.
Our Experienced and Professional writers will work with you to Edit, Modify and Refine the Content on Request, and will do as many Changes as you want until you're not satisfied with the Resume.
We write Resume based on Feedback we receive from Top Recruiters, Industry Experts and Corporate Requirements. We strictly follow Industry Best Practices.
We write Resume Optimized for Applicant Tracking system (ATS) which is widely used by corporate Companies and Recruiters to select Candidates. ATS can filter Applicants based on Keywords and Formatting.
Fact about a Professional Resume
Do you know around 70% Resume got Rejected by Resume Screening Software.
As per the Study by "The Ladder" a Recruiters take on an Average only 6 Seconds to scan a Resume.
As per the Research Stats Presented by Glassdoor, if a Company on an average Accepts 250 Resumes for the Job Opening, they only Call 4 to 6 Candidate for the Interview and out of those only 1 gets the Job.
Your Resume Plays an important part in your Career Journey. Most of the Professionals don't have any idea what to write in a Resume.
We know the Importance of Quality Resume as it is an important tool that first connects you directly with the Companies.
A Perfectly written and professionally crafted Resume will help you in getting more Job Interviews and keeps you ahead of your Competitor.
Our aim is to make it easier for Candidates and Job Seeker to get Professional help with their Resume.
Get A Professionally Written Resume Today
Job Search can be a Frustrating and Time Consuming, that's why we are here to help you.
You are losing a High Paying Job just because your Resume is not perfectly crafted.
Convert your every Job Application status from Job Applied to Job Interviewed
A perfectly Crafted Resume can make your Stand ahead of your Competitor.
We make it easier for Candidates and Job Seeker to get Professional help with their Resume.
You have Job Skills, Knowledge and Experience, we have Resume writing Professionals.
Over 100 Professional Writers are there to write perfectly Crafted Resume for you.
We are helping people since last 10 Years in writing a Professional Resume.
We are committed to deliver the Final Resume to you in 7 days.
The service would help you get your resume crafted in a powerful way and as per the market demands.
All the necessary modifications/customizations/optimization will be done only within a period of 15 working days from the date the first draft of the resume has been e-mailed to you by our Experts.
Jobsglint.com (SAC Management India Private Limited) will not refund the subscription charges for Resume Writing service once the payment has been made and the process has been initiated.