Recruitment Process Outsourcing (RPO) Services
SAC Management India Pvt. Ltd. is a Best Recruitment Process Outsourcing (RPO) Service Provider
Recruitment Process Outsourcing (RPO) Service
SAC Management India Pvt. Ltd. offers the most exhaustive group of recruitment process outsourcing services. We help you refine your talent acquisition process by aligning our services through your corporate objectives. We do this by providing you with a customised blend of people, technology, and process. This ultimately leads to the hiring of the right people for your business, thereby enhancing your business' growth. The groundwork of service delivery is service excellence, and our client teams have proven experience in delivering recruitment training, recruitment process outsourcing, recruitment technology, and background screening.
Our Mission
To Gratify our clients, providing a proficient and certainly a reliable solution in the human resource domain within the least time rota empowering the present and impeding work force.
Our vision
With a close-knit organized team that consists of drive dynamic and talented professional, our vision is to be one of the premiers HR Service Provider.
SAC Management India Pvt. Ltd. establishes itself in the Recruitment Process Outsourcing support and puts up the following solutions to meet your needs:
Recruiting and sourcing specialists who will adopt basic and advanced sourcing capabilities, including the use of ATS and resume database mining, major and niche job boards, direct recruiting, cold calling, industry outreach and more to supply the client with a pool of candidates
Devoted account team, comprising an Account Manager and Client Relationship Manager who will consistently assist the client Hiring Managers during the entire course of the RPO relationship
SAC Management India Pvt. Ltd. follows a coherent recruitment and hiring process, spanning from job profiling to new-hires onboarding. During this, we use an RPO-enabling system of record to track and report the hiring process in a streamlined manner
Flexible resources that will provide sourcing expertise and transactional support, including resume review, phone interviewing, interview scheduling, hiring event logistics, pre-employment screening, offer processing, etc. to make sure that the hiring process is backed efficiently
A professional provider of Recruitment Process Outsourcing Services, SAC Management India Pvt. Ltd. shall take up the delivery and accountability of the complete recruitment function for its clients, right from requisition to onboarding. Being an RPO provider for our clients, we work as their company's internal recruitment function and bear the responsibility of outcomes. Some of our features within this framework are:
Devoted specialist recruitment team without the headcount cost on balance sheet
Single point of accountability for recruitment
Effective, flexible, and scalable solutions adjusted to meet the changes in demand
Reducing HR and Hiring manager time spent on recruitment to focus on more strategic or consultative activities
Leveraging supply chain benefits and best practices across our RPO client base allowing continuous improvement
Improving quality, customer and candidate satisfaction
Innovation and continuous improvements
Transparency and control through recruitment analytics and matrix
Innovation and Continuous Improvements
Candidate Verification
Criminal searches
Reference Verification
Other Public Records
Drung testing and medical Screening
Apart from all these, we conduct qualification checks with tertiary institutions, credit and criminal record checks. We perform this process keeping the Labour Legislation compliance in mind. Reference checking is an indispensable part of our process. We believe that a candidate's previous behaviour is likely to be repeated. For the same, we perform extensive reference checks to approve our interview findings. We take up this entire process meticulously, which reduces the possibility of any unexpected behaviour once a candidate commences his duties. Hence, the risk inherent in every new hire substantially decreases.
The benefits of our Recruitment Process Outsourcing Services can be understood as follows:
Potential to Assess the Activity –Provides a chance to manage by the numbers (like time to hire, screenings, candidate flow, interviews, etc.)
Cost Reduction and on Demand Service –RPO can oblige your requirements on your timetable and minimize your recruiting costs and business troubles.
Advanced and Relevant Reporting – Capability to efficiently manage the recruiting efforts instantaneously by using valuable information
Upgrade the Best Technology – Eliminate the need to update existing systems or make a sizeable investment in obtaining a new one
Enterprise-Wide Coordination – Remove any confusion and add smoothness in your hiring process by keeping candidates, executives, and hiring managers well informed
Uniform and Centralised Process – Provides a steady approach to recruiting that pertains to all team members, at different levels and in one location
Predictable and Reliable Results – Take the guesswork out of recruiting functions and acquire more control over planning, forecasting, and budgeting
Compliance – Meet industry and governance regulations
Dedicated and Knowledgeable Professionals – Reduce any unnecessary stress and extra work for your employees and managers by obtaining the best candidates through our experts
Broaden the Talent Search – By widening your accessibility, you can grab a large pool of candidates across different areas (regional, national, and international)
Our Recruitment Phases
Different industries need different approaches for recruitment and successful hiring of suitable candidates. Our industry specific consultants work with close coordination with the clients in order to understand their specific reuirements and to adopt individual strategies for individual industries.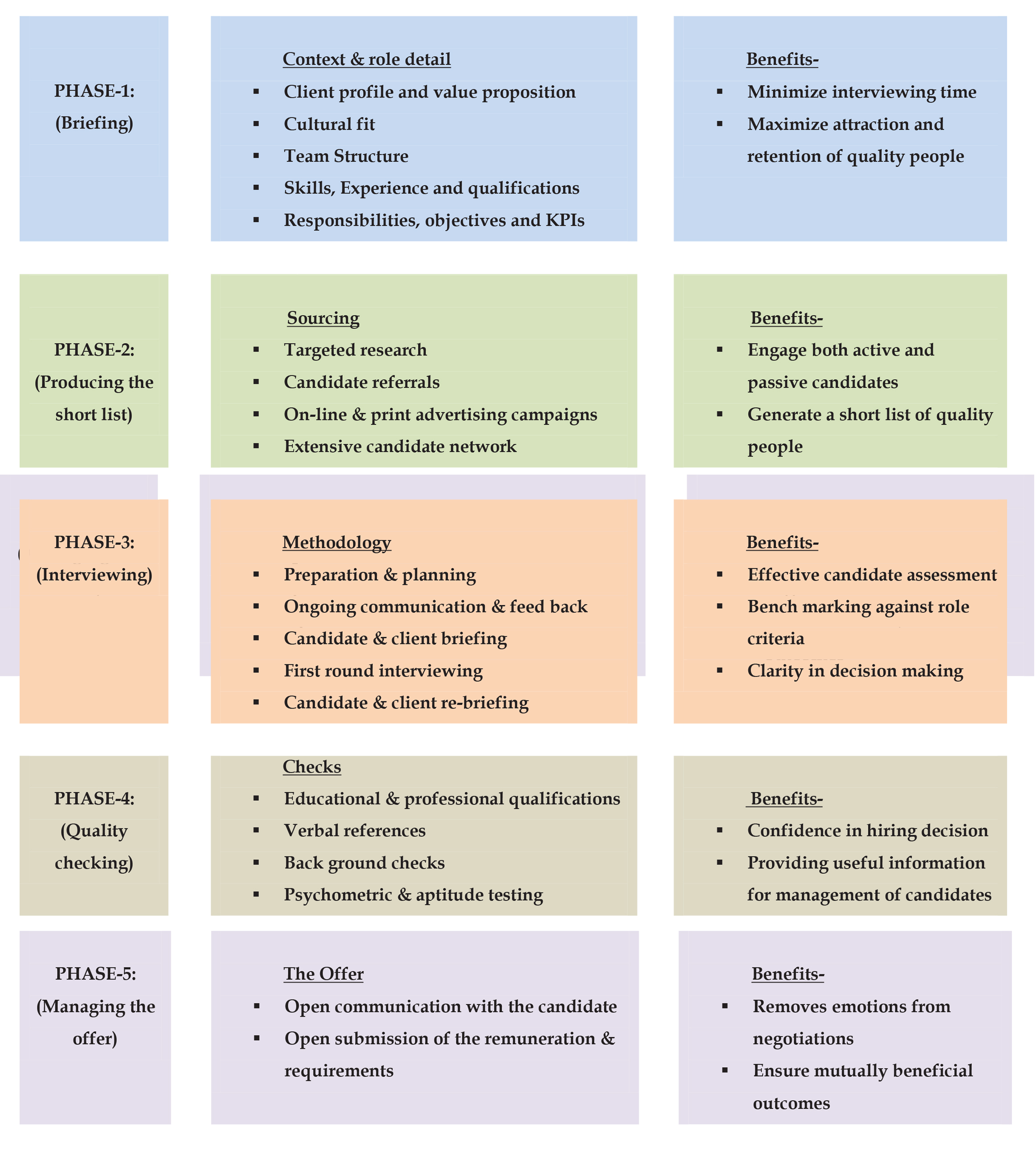 ---
All rights reserved © SAC Management India Private Limited & SAC Management Services #2011-2020